Live Like a Billionaire – The Howard Hughes Suite
On March 14, 1972, Howard Hughes, the world's most famous and elusive billionaire, checked into the Westin Bayshore, Vancouver. The eccentric business magnate lived in the hotel's three-room, top-floor penthouse for 6 months, and was never seen outside of his room, despite the media's best attempts to photograph him. Would you like to have a taste of the lifestyle and experience a piece of Vancouver's history? Enter our Howard Hughes Suite. Affording clean, inspiring elegance, this deluxe Tower suite has the most far-reaching, breathtaking harbor views available from the top floor – the views Howard Hughes looked at in his self-imposed isolation.
Stay Fit on the Road - RunWESTIN®
As part of the RunWESTIN program, The Westin Bayshore, Vancouver offers guests an opportunity to enjoy fresh air and local scenery with a guided run by a Run Concierge. What better way to perk up your morning run than jogging along the scenic Seawall and Stanley Park. These complimentary group runs are open to runners of all levels to provide you with a unique and memorable experience and to help keep up your workout routine while on the road. Our Running Concierges lead 3- and 5-mile runs. Area running maps, towels and water bottles are also provided. Available from May until October.
Explore Vancouver on Your Bike – BikeWESTIN
Vancouver is Canada's greenest city and recognized as having the smallest carbon footprint of any major city in North America. Join in on being eco-friendly and explore Vancouver's natural settings and urban offerings on your bike during the summer months. The Westin Bayshore, Vancouver developed a program offering 5 themed bike tours ranging from a Craft Beer Tour to a Vancouver Beach Tour, complete with directions, maps, and bike rental information.
Find Your Balance with YogaWESTIN
Whether to restore your energy or to clear your mind we invite you to take part in The Westin Bayshore's yoga practice offered to our guests during the summer months. The 60-minute outdoor yoga sessions take place in Cardero Park immediately adjacent to the hotel with spectacular water views and guided by one of Vancouver's top yoga instructors. All levels of yogis and yoginis are welcome. Namaste.
Travel Light and Leave Your Gear at Home
Save time, space, and baggage fees and leave your gear at home. The Westin Bayshore, Vancouver has on-site gear lending programs in place year-round. For those heading to the WestinWORKOUT fitness center or the spectacular running trails of Stanley Park and the Seawall, a selection of New Balance apparel is available, including shorts, shirts, socks, and shoes.
Guests Love to Get Social with The Westin Bayshore, Vancouver
As guests become increasingly social media savvy, so has The Westin Bayshore, Vancouver. Our Facebook page has become a prime place for guests to find deals. Twitter has become an extension of customer service where guests can ask questions, update their reservations, or even request towels. Our Instagram Guest Gallery displays tagged photos on our website to showcase the unique perspective captured by our guests.
It's a Heavenly Dog's Life in Vancouver
With endless running trails, numerous dog-friendly beaches and parks, and various dog-focused events throughout the year, Vancouver is a year-round hot spot for the traveling canine. The Westin Bayshore, Vancouver facilitates dog-friendly travel, catering to the overall well-being of both pet and pet owner alike. Upon arrival, guests will find a Heavenly Dog Bed® along with food and water dishes in their room. The Concierge Team is on hand to make arrangements for dog-walking or sitting, or suggestions for dog-friendly activities. Plus, unlike most hotels, there is no charge to bring your dog along to the Westin.
Stretch Out Your Stay - Just Add H2O
Experience Liquid Yoga at The Westin Bayshore, Vancouver's hotel pool. Take your yoga practice to the next level and discover the fluid movement of an onwater yoga practice. Classes include a slow moving flow practice to stretch and awaken the mind and body. Set within the beautiful surroundings of our outdoor pool in the summer and indoors during the fall and winter months, guests are guided by experienced on-water yoga instructors who share a love for nature and the water. The Aquamat, an inflatable yoga mat specifically designed with stability in mind, offers a new level of challenge and exploration of the land-based yoga practice you may already be familiar with. This offering is available for hotel guests for $20 and non-guests for $30 per session.
Life's Better at the Pool - H2Oasis
The Westin Bayshore, Vancouver opens its pool doors to Vancouver Locals with an exclusive H2Oasis Summer Pool Experience during peak summer months. This offering allows full-day access to the pool with a reserved chaise lounge, a $25 credit for H2(O)'s pool menu, refreshing edible treats throughout the visit, and cooling face towels. Those that partake also receive a welcome gift basket upon arrival. With a limited number of spots available, this experience can be purchased for $125 per person for full day access, based on availability.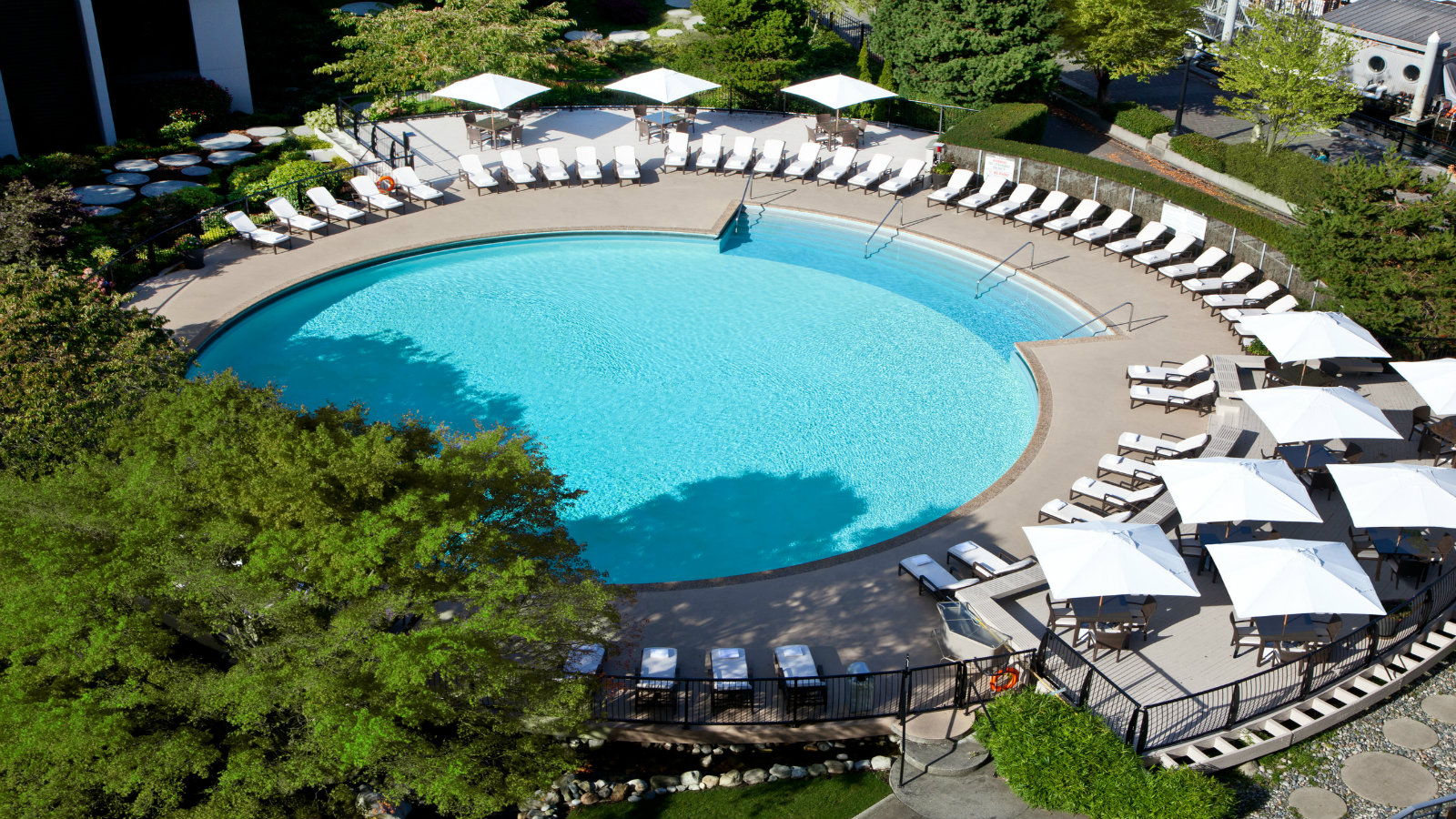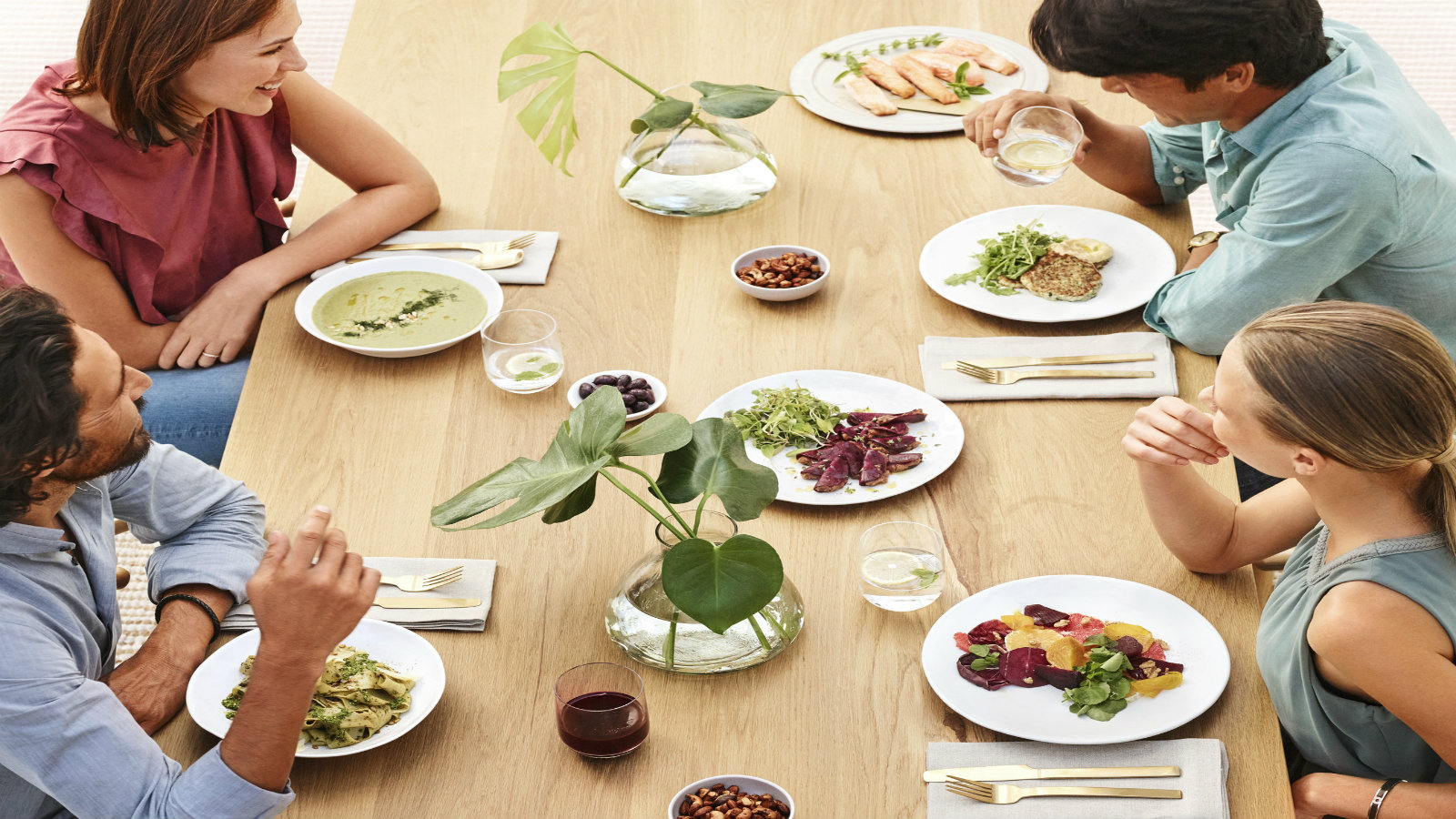 Nice to Meat You
H2 Rotisserie & Bar, Vancouver's newest hot spot for upscale comfort food and local beer and wine on tap. Relax on our giant patio or in our contemporary dining room, both offering spectacular views of the resort's pool, gardens, and the gorgeous Burrard Inlet. Taste mouth-watering rotisserie fare, complemented by H2's completely local beverage offerings including beer, cider, wine, crafted cocktails and even seasonally flavoured kombucha on tap. Our wide selection of hearty menu offerings can be served as individual portions or family-style.
Live music 6 days per week 5 PM – 10 PM and during brunch on weekends. Happy Hour Daily 3 PM - 5 PM & 10 PM - close.
H Tasting Lounge - Take Flight With Us!
Join us in H Tasting Lounge (H Lounge, for short!) for global cuisine, curated cocktails, and a dash of nostalgia. Inspired by entrepreneur and early pioneer in aviation, Howard Hughes, this Coal Harbour lounge offers nightly live entertainment and a menu highlighting delicacies from stops made on Hughes' infamous world tour. The art deco interior allows you to take a step back in time to a place where "Rules Don't Apply". Experience afternoon tea service, replete with Eastern and Western options to compliment TEALEAVES loose leaf teas.
Open from 11:30 AM - 1:00 AM Monday - Friday; 12:00 PM - 5:00 PM Saturday/Sunday. Available for private function bookings.